Switch công nghiệp 4 port, 8 port (10 Gigabit Ethernet and PoE)
5
5
(

1

đánh giá)
Supports 1000BASE-X Gigabit fiber and 10/100/1000BASE-T RJ-45
Multiple configurations, including 6 Port and 10 Port:
1 Fiber + 4 Copper
2 Fiber + 4 Copper
1 Fiber + 8 Copper
2 Fiber + 8 Copper
Hãng sản xuất: Omnitron-systems
Xuất xứ: Mỹ
Bảo hành:

12 tháng

Tình trạng :

Còn hàng
Liên hệ
Cam kết chất lượng
Sản phẩm chính hãng, đầy đủ C/O và C/Q
Giá cạnh tranh
Cam kết GIÁ TỐT NHẤT
Bảo hành uy tín
Bảo hành CHÍNH HÃNG
Giao hàng toàn quốc
MIỄN PHÍ vận chuyển
Khách hàng

Mai Khánh Toàn

-

(0966787xxx)

đã mua 4 ngày trước (24/11/2023)
Khách hàng

Mr Tan

-

(0983376xxx)

đã mua 2 tháng trước (11/10/2023)
Khách hàng

nguyệt

-

(0932628xxx)

đã mua 5 tháng trước (05/07/2023)
Thông số kỹ thuật Switch công nghiệp 4 port, 8 port (10 Gigabit Ethernet and PoE)
1. Tính năng chính
Managed Industrial Ethernet 6 and 10 Port Gigabit Fiber Switch
■ Supports 1000BASE-X Gigabit fiber and 10/100/1000BASE-T RJ-45
■ Multiple configurations, including 6 Port and 10 Port:
• 1 Fiber + 4 Copper
• 2 Fiber + 4 Copper
• 1 Fiber + 8 Copper
• 2 Fiber + 8 Copper
■ Supports jumbo frames up to 10,240 bytes
■ Management via Web, Telnet, SSH and serial interfaces
■ Supports SNMPv1/v2c/v3 protocols
■ SNMP management via Omnitron's NetOutlook® management software, or third-party SNMP management software
■ Email Event Notification with Simple Mail Transfer Protocol (SMTP)
■ Supports ST, SC and LC fiber ports or SFP transceivers
■ Fiber redundancy on models with two fiber ports
■ Dual Device mode for operating as two separate switches
■ Directed Switch mode to prevent port flooding
■ Alarm contacts and sensors
■ Isolated single or dual DC power for redundancy
■ Wall and DIN-rail mountable
■ Fan-less design for long life and vibration resistant
■ Industrial (-40 to 75ºC) operating temperature
■ Free 24/7/365 Technical Support
2. các tính năng mở rộng
■ IEEE 802.1Q VLAN tagging and IEEE 802.1ad Q-in-Q Provider Bridge VLAN stacking
■ Port Access Control for enhanced security
■ Broadcast / Multicast / Unicast Storm Prevention
■ DHCP Relay Option 82
■ RFC 4541 Internet Group Management (IGMP) snooping
■ IEEE 802.1ax Link Aggregation Group (LAG) and Link Aggregation Control Protocol (LACP)
■ IEEE 802.1ab Link Layer Discovery Protocol (LLDP)
■ Rate Limiting, Queue prioritization and Class of Service
■ IEC 62439-2 Media Redundancy Protocol (MRP)
■ IEEE 802.1w Rapid Spanning Tree Protocol (RSTP)
■ Static MAC configuration and blocking of unknown Unicast/Multicast addresses
■ SNTP / NTP and time of day
■ IEEE 802.1x, RADIUS, TACACS+ and Access Control Lists
■ RFC 5424 Syslog
3. Ứng dụng
Dual Device Mode
For secure applications requiring two separate network domains over fiber runs to the same location, the G/Mi can be configured in Dual Device Mode.
The G/Mi provides separate and independent data traffic paths between the two fiber links and four or eight RJ-45 ports. In the example below, the green lines represent a Manufacturing network and the purple lines represent a Workgroup network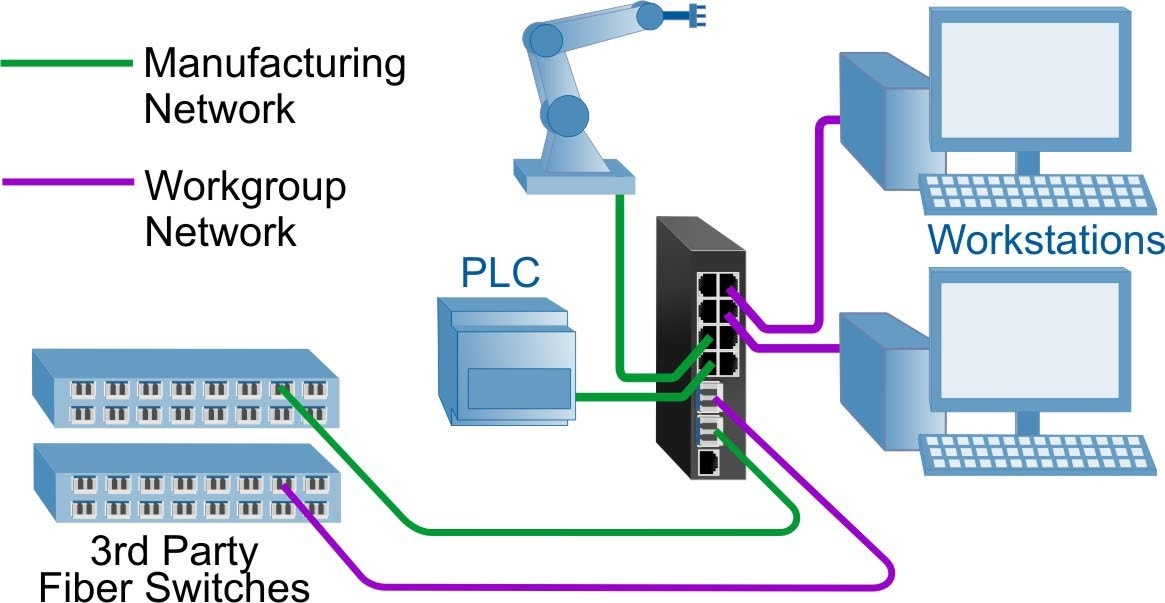 Directed Switch Mode
The G/Mi can be configured to operate in Directed Switch Mode, which directs video traffic only to the uplink fiber port, as shown in the diagram below, preventing the multicast traffic from flooding other network ports.
This example shows a video camera that broadcasts a multicast video stream to the entire network, and the video stream is received by all of the destinations. This multicast video can cause port flooding on other network devices (including other cameras, printers and workstations). To avoid this, multicast traffic is routed only to ports where the destination devices are connected.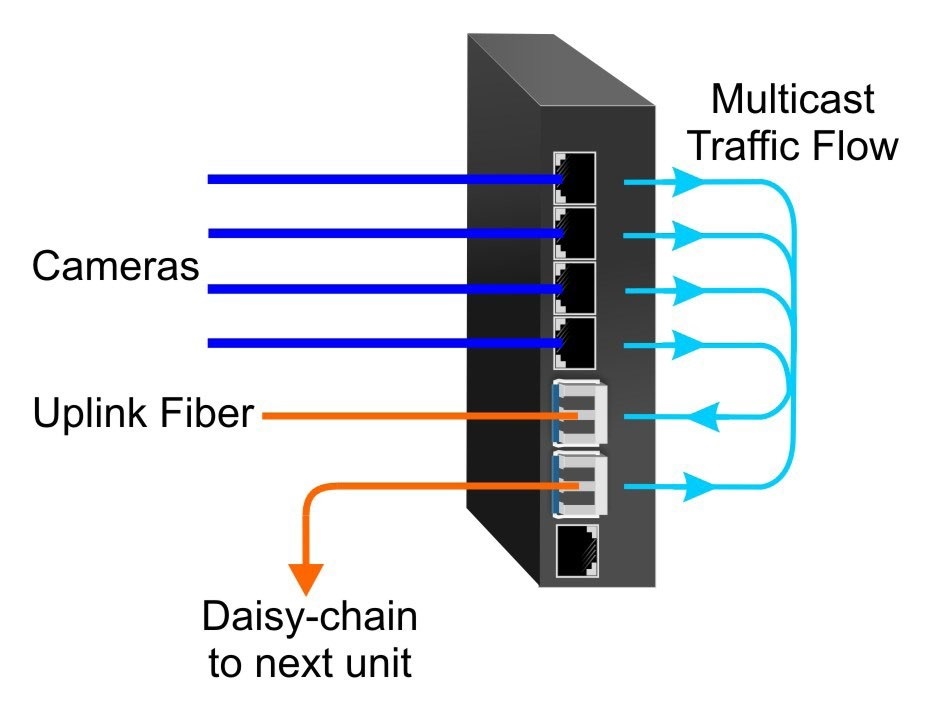 Industrial Daisy Chain Network Application
RuggedNet industrial fiber switches can be deployed in a simple daisy chain topology. In this application example, Gigabit fiber is distributed from a fiber switch at a network hub location, and fiber runs along a manufacturing line in a daisy chain topology.
RuggedNet G/Mi fiber switches with two fiber ports are deployed along the fiber daisy chain, and each RuggedNet G/Mi fiber switch provides copper connectivity to a router, a camera, a PLC and an industrial manufacturing robot
4. Tiêu chuẩn kỹ thuật
Description

RuggedNet G/Mi
10/100/1000BASE-T to 1000BASE-X
Industrial Managed Ethernet 6 and 10 Port Gigabit Fiber Switch

Standard Compliances

IEEE 802.3, IEEE 802.1Q, IEEE 802.1ad,
IEEE 802.1ab, IEEE 802.1w, IEEE 802.1ax,
RFC 5424, RFC 4541, IEC 624339-2,
SMTP, SNTP, RADIUS, TACACS+, IEEE 802.1x

Environmental

REACH, RoHS and WEEE

Management

Web, Telnet, SSHv2, Serial Console, SNMPv1/v2c/v3

Frame Size

Up to 10,240 bytes

Port Types

Copper: 10/100/1000BASE-T (RJ-45)
Fiber: 1000BASE-X (ST, SC, LC, SFP)
Serial: RJ-45

Cable Types

Copper: EIA/TIA 568A/B, Cat 5 UTP and higher
Fiber: Multimode: 50/125, 62.5/125μm; Single-mode: 9/125μm
Serial: Category 3 and higher

DC Power Requirements

4 RJ-45 Ports:
12 to +/-57VDC;
0.77A @ 12VDC
0.19A @ 48VDC
2 Pin Terminal (isolated)

8 RJ-45 Ports:
12 to +/-57VDC;
0.85A @ 12VDC
0.21A @ 48VDC
2 Pin Terminal (isolated)

Dimensions

W: 1.5" x D: 5.5" x H: 5.5" ; L: 38.1 mm x B: 139.7 mm x H: 139.7 mm

Weight

4 RJ-45 Ports:1.70 lb.; 772 grams

8 RJ-45 Ports: 1.77 lb.; 803 grams

Operating Temperature

-40 to 75°C

Humidity

5% to 95% (non-condensing)

Altitude

-100m to 4,000m (operational)

MTBF (hrs)

4 RJ-45 Ports: 285,000

8 RJ-45 Ports: 280,000

Warranty

5 year product warranty with 24/7/365 free Technical Support
Alarm Contacts and Sensors
Alarm Contact (Output)

2 form C Relays for Normally Open and Normally Closed Operation
110VDC/125VAC Maximum Voltage
2A Maximum Current

Alarm Sensor (Input)

2.0ma @ 3.3VDC Closure Detection
Standards and Compliances
Safety*

UL 60950-1
IEC 60950-1:2005+A1:2009 and
EN 60950-1:2006+A11:2009+A1:2010+A12:2011
CE Mark

EMC

EN 55032/24 CE Emissions/Immunity
IEC 61000-6-4 Industrial Emissions
IEC 61000-6-2 Industrial Immunity

EMI

CISPR 32, FCC 47 Part 15 Subpart B Class A

EMS

IEC 61000-4-2 ESD: Contact: 4 kV; Air: 8 kV
IEC 61000-4-3 RS: 80 MHz to 1 GHz: 3 V/m (passed industrial rating of 10V/m)
IEC 61000-4-4 EFT: Power: 1 kV (passed industrial rating of 2 kV)
IEC 61000-4-4 EFT: Signal: 0.5 kV (passed industrial rating of 1 kV)
IEC 61000-4-5 Surge: Power: 1 kV (passed industrial rating of 2 kV)
IEC 61000-4-5 Surge: Signal: 1 kV
IEC 61000-4-6 CS: Signal: 3 Vrms (passed industrial rating of 10 Vrms)

IP Rating

IP40 Protection
Quý khách có nhu cầu tư vấn Switch công nghiệp xin vui lòng liên hệ
CÔNG TY TNHH HỆ THỐNG CÔNG NGHỆ THÔNG TIN COTEL
Địa chỉ: 14C2 Ngõ 521/51, Trương Định, Hoàng Mai, Hà Nội, Việt Nam
Điện thoại: (024) 66637998 | Hotline: 0904787059
Email: info@cotel.vn